Webinar: Leveraging LinkedIn for Professional Success
Webinar: Leveraging LinkedIn for Professional Success
Thursday, January 25, 2024 (11:30 AM - 12:30 PM) (EST)
Description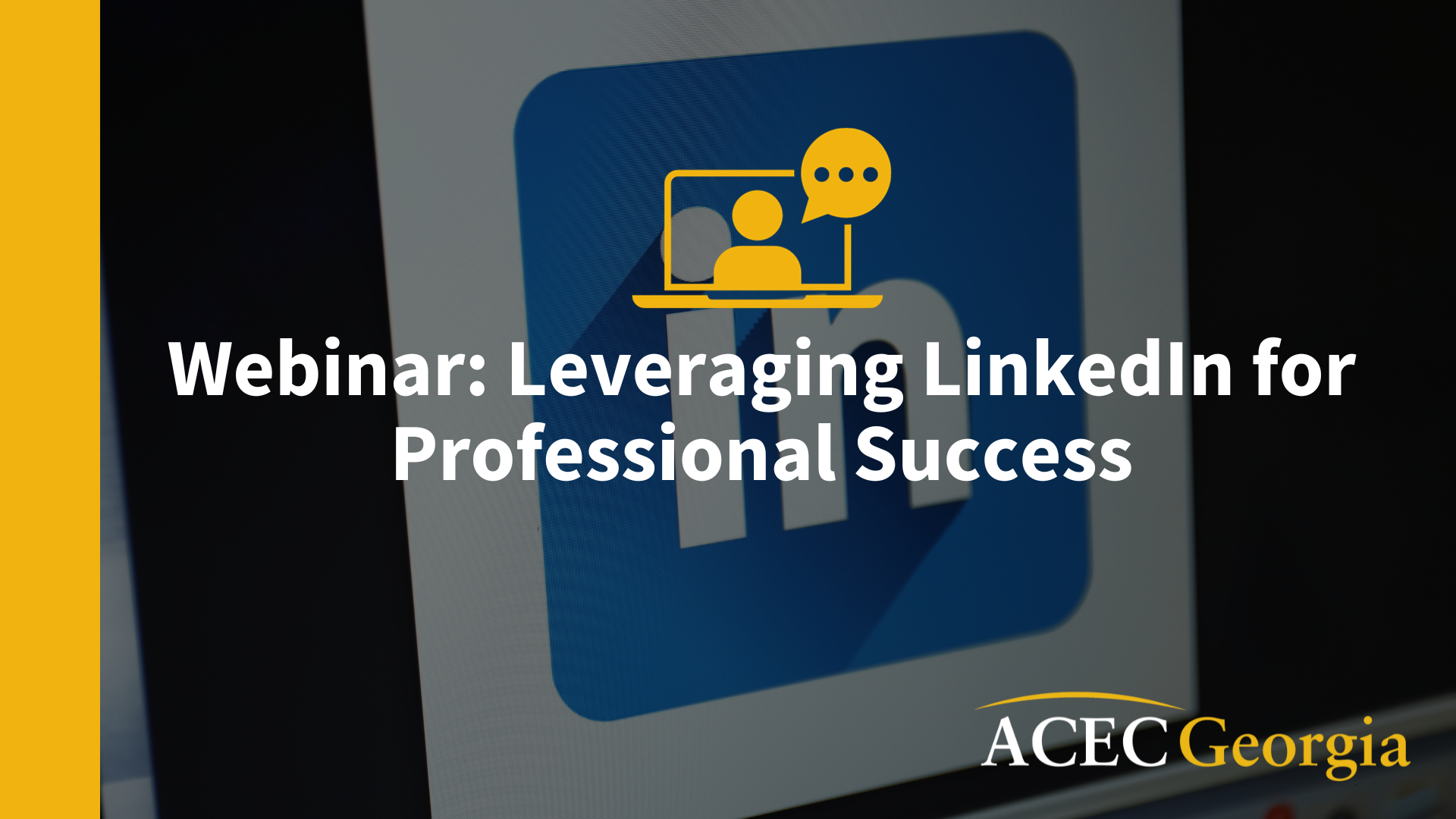 ACEC Georgia invites you to join us for a webinar on Leveraging LinkedIn for Professional Success.
One in four professionals who changed jobs in the past few years is unsure if they made the right decision. And job searching, in general, has become more complicated than ever with differing advice and tools online. This makes effective networking and leveraging LinkedIn successfully essential to a job search and branding yourself properly. However, many professionals struggle with keeping up with their LinkedIn profile, staying in touch with their network, and knowing what to say when networking. This webinar will provide you with tips regarding improving and leveraging LinkedIn, whether you are searching for a new job, wanting to reconnect with your network, or looking to expand your network for career growth or a possible career change.
What will be discussed in this webinar:
Why LinkedIn is a critical networking and branding tool regardless of your industry and situation.
How to leverage LinkedIn effectively for networking and branding purposes to get the attention of your network and employers.
An outline of how your LinkedIn profile should be organized and presented.
LinkedIn etiquette connecting with new and existing connections.
Speaker: Hallie Crawford, Founder, Owner & Career Coach, Create Your Career Path
To learn more about Hallie, click HERE.
Pricing
Free | ACEC Georgia Members
$35 | Non-Members
Zoom
You will receive the Zoom login information in your confirmation email. We will also email the link to all registrants the day of the event.
Thursday, January 25, 2024 (11:30 AM - 12:30 PM) (EST)
Categories
Virtual Learning
Business Development
Business Resources